Cover of High-Performance Mag with "Silver Bullet" Bike, made by Christian Ulmann of Biker's Paradise, Switzerland. This bike went around the world and was featured in many magazines, including american Easy Riders. Christian mounted the AMM-IMMOGNITION in a somewhat strange position... behind the gearcase, becaues the engine had a oval-shaped nose-cone...
"Silver Bullet" was also the cover custom of EDN magazine.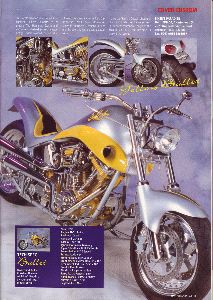 Hot Bike Japan. Hiro Kawaguchi of "Old Biker" with ad and interesting tech feature of the AMM-IMMOGNITION.
In 1997 was the introduction of the "Millenium-Series AMM-IMMOGNITION", which was supplied with a 5-years warranty, somthing no other ignition manufacturer dared to do at this time. 90days was normal for electric devices back then.
5-years warranty meant: warranty into the next millenum (from the standpoint of '97) which was the reason for the term "Millenium Series".
'97 also marked the launch of the AMM-website.
So a couple of advertisings and product news were done, especially in High-Performance magazine.
Altmann Micro Machines … Dipl.-Ing. Charles Altmann… Am Mühlenbusch 57… 42781 Haan… Germany
phone +49-2129-54260…fax +49-2129-342555…email

Disclaimer: All words marked with ® are used as a reference only and belong to the Harley-Davidson company, which is in no way affiliated with AMM.