This is one of the very rare occasions, to see Ruedi riding a non-turbocharged bike ;-) This is the official swiss-performance bike, ignited by the AMM-P3 ignition for TwinCam engines.
"Red Flame" Evo-Chopper with AMM-IMMOGNITION, done by Mainhattan Bistro, Parts & Bikes, Frankfurt.
"Blue Mission" by Custom-Ranch. AMM-IMMOGNITION II fires a pair of (formerly green) Dyna-coils.
A couple of Swiss Performance bikes with AMM-IMMOGNITIONs. 'Coni' having a beer...
Another "Without Truck" driver with AMM-IMMOGNITION on Custom-Performance-Show.
"Bad & Mad" fast FXR from American Custom Cycles. AMM-IMMOGNITION II with 2-in-1 Dyna coil.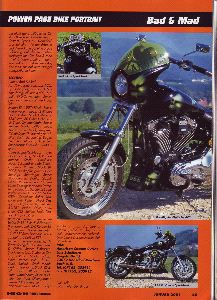 Altmann Micro Machines … Dipl.-Ing. Charles Altmann… Am Mühlenbusch 57… 42781 Haan… Germany
phone +49-2129-54260…fax +49-2129-342555…email

Disclaimer: All words marked with ® are used as a reference only and belong to the Harley-Davidson company, which is in no way affiliated with AMM.